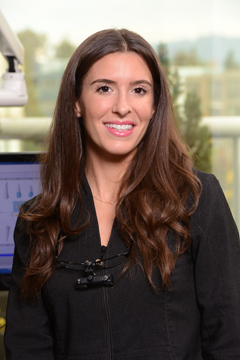 Dr. Noa Albanese was born and raised in beautiful British Columbia. Noa obtained her BSc. degree from the University of Western Ontario and joyfully returned home to warmer climes where she completed her Doctor of Dental Medicine degree at the University of British Columbia. 
Noa thoroughly enjoys all aspects of dentistry and provides high quality treatment for her patients in a comfortable and gentle manner. 
Noa believes that having a healthy and beautiful smile has a profound and all-encompassing effect on people of all ages. Helping patients achieve this is what she enjoys most about dentistry. Her belief in keeping up with new technology and information while taking the time to build meaningful longstanding relationships is the mainstay of her practice.
A life long learner, having completed advanced training courses in a variety of areas and annual participation in study clubs across the Lower Mainland, Noa is particularly focused on Endodontics, Botox, Restorative and Aesthetic Dentistry. 
Aside from her passion for dentistry, Noa loves sharing her talents for interior design, tackling various DIY projects! She has been working on her culinary skills, experimenting with new recipes but generally prefers to leave the cooking to her husband. Noa adores spending time outdoors and you will often find her heading to the beach on her bicycle to hang out with her family and friends.