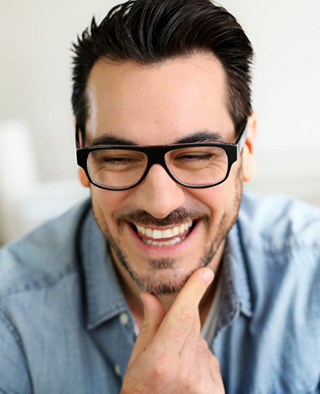 You can make almost any cosmetic change to your smile with gorgeous porcelain veneers. Dental veneers are ultra-thin porcelain coverings that are bonded to the surfaces of imperfect natural teeth.
Give Yourself a New Smile By Correcting Minor Flaws!
Porcelain veneers can be used to correct a wide assortment of smile flaws, including:
Chips or Fractures | Fractures or chips are dangerous to your smile. They can break down the enamel, weaken the teeth, and lead to pain and sensitivity. Dental veneers deliver strength to the tooth while they enhance the appearance of your smile.
Crooked Teeth | If you think that lengthy orthodontic treatment is the only route to a straight smile, think again! Minor misalignments can be adjusted by porcelain veneers. Dental veneers can cover wide spaces or crooked areas to give the impression of perfect alignment.
Darkness or Discoloration | You may choose to brighten your teeth with whitening procedures, but porcelain veneers are the ultimate way to attain a permanently brilliant smile. Porcelain veneers can cover even the most stubborn stains, and they are resistant to future staining. You can choose your ideal shade of white and achieve it quickly with porcelain veneers.
Dental veneers are truly the do-it-all cosmetic dental treatment. Whether you have one smile defect or many, you can create a flawless smile with this one simple procedure. Dental veneers are also long-lasting, and they will increase the strength of your natural teeth.
Schedule a Consultation with Dr. Marcy Schwartzman, DMD
When you look in the mirror, are you pleased with your smile? If you have a subtle or obvious smile error that is affecting your overall appearance, we are sure to have the solution at Dr. Marcy Schwartzman, Inc. Many patients can discover brand new smiles with porcelain veneers after just 2-3 pain-free visits to our office.
Our experienced team of professionals have been working with patients for years to create dream smiles. We always respect your smile preferences and comfort needs while we work towards health and happiness. Schedule your appointment with a quick call to our office today!