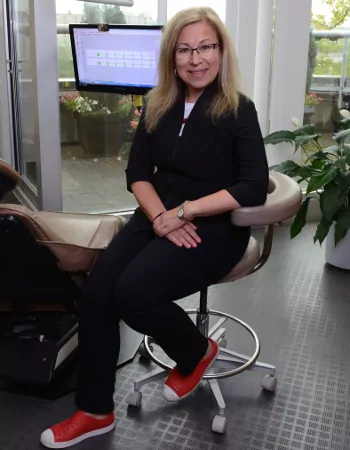 I knew that I wanted to be a dentist from the moment that my braces got put on when I was 13 years old. I loved my orthodontist. He loved doing his job and it really showed in the way that he treated me not just like the inquisitive kid that I was at that time, but more like a real person who had opinions and questions to be answered. His passion and enthusiasm rubbed off on me and from that point on I knew that I wanted to become a dentist. Dentistry is an opportunity to work with wonderful people and help them smile their best, in my opinion the ideal job.
I graduated from the University of British Columbia with a B. Sc in Microbiology in 1980 and my D.M.D in 1984. Life long learning and a commitment to the continued excellence of service has always been my goal and dedication. This makes coming to work every day a joy and always a new experience. I love what I do, and I have fun doing it. Through my ongoing participation in the Canadian Dental Association, and International Alpha Omega Dental Fraternity, and other professional organizations I have attended numerous hours of continuing education seminars and lectures. This study allows me to continually improve my dental skills and techniques. My special interest has lately been in the area of smile design and cosmetic procedures.
I was pleased to be the International President of the Alpha Omega Dental Society in 2013 and had a wonderful opportunity to meet dentists around the world. My membership in the Crown Council has given our office the chance to participate in the "Smiles for Life" campaign
On an annual basis and our office has collected over $80,000 as of 2020! We are pleased to continue our local support of the Strathcona Community Dental Clinic for children.
I strive to maintain a balance of my professional career, family, spirituality, and health. My husband, Larry, is always supportive of all my accomplishments and has been a great force behind me.
I continue to volunteer my spare time to numerous organizations and causes. You can often find over 40 people at our dining room table eating, talking, and enjoying.
Our two adult children, Max and Leatt make up the perfect family. Together we love to ski, ride our bikes, and enjoy our British Columbia great outdoors.
I invite you to stop by and meet my outstanding team and tour our office. I know that you will be impressed by what you see.