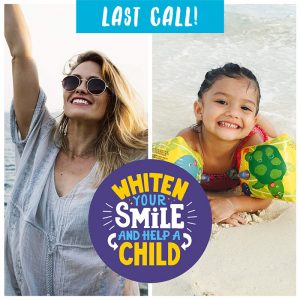 AS MANY OF YOU KNOW, we are proud participants of the 2017 Smiles For Life campaign. Since March we've been professionally whitening people's smiles and donating 100 percent of the proceeds to the Smiles For Life Foundation to benefit seriously ill, disabled, and underprivileged kids—both locally and around the world. You—our valued patients and friends—have been crucial to our efforts and we still need you!
When June Ends, The Campaign Ends
If you've already participated, we thank you—your contribution is greatly appreciated. If you haven't, there's still time (although not much!) for you to make a difference. You have until the end of June to take advantage of this wonderful opportunity. It's the ultimate "win, win". We professionally whiten your teeth, you get a dazzling white smile, AND both of us get to help children in need.
Here's How It Works: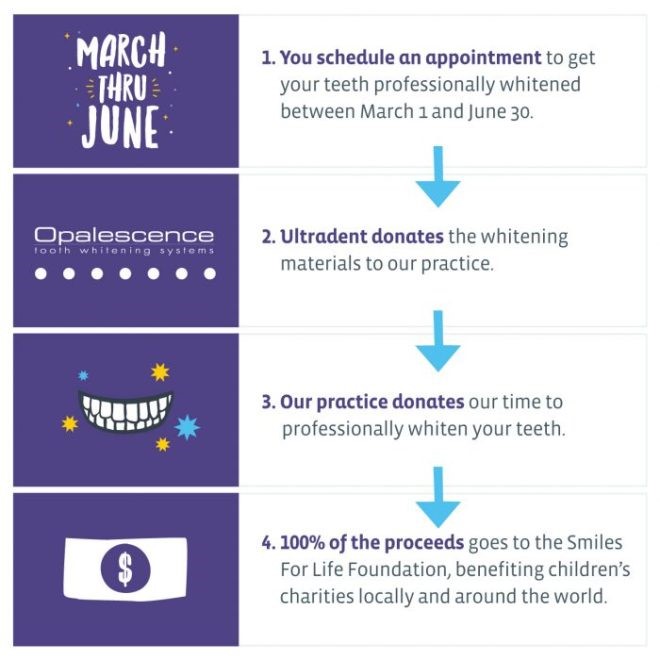 At Our Office
Here at Dr. Schwartzman, Dr. Tabata, and Dr. Durward's office, we have a goal of raising $10,000 for charity in our 2017 Smiles for Life campaign – and we're nearly there!
Here's How YOU Can Help Kids In Need:
1. Make a whitening appointment with us to whiten your smile!
2. Help us spread the word! Whether you choose to have your own smile whitened or not, you can make a HUGE difference for seriously ill and underserved children around the world by simply sharing this opportunity on your trusted social networks such as Facebook!
Thanks for helping us make a difference in children's lives!
The content on this blog is not intended to be a substitute for professional medical advice, diagnosis, or treatment. Always seek the advice of qualified health providers with questions you may have regarding medical conditions.